Tamil Monthly Calendar March 2023 – Now Online – Wedding Dates, Nalla Neram, Daily & Monthly Calendar, Rahu Kalam – Start your life in auspicious time.
Tamil Calendar January 2023
Are you looking for all daily sheet of Tamil calendar January 2023? You can find the monthly and daily sheets of January 2023 Tamil calendar with all auspicious dates in January like muhurtham dates, hindu festivals, muslim festivals, christian festivals, holidays, amavasai, pournami, pradosham and more. Scroll down to view the complete calendar.
Monthly Calendar January 2023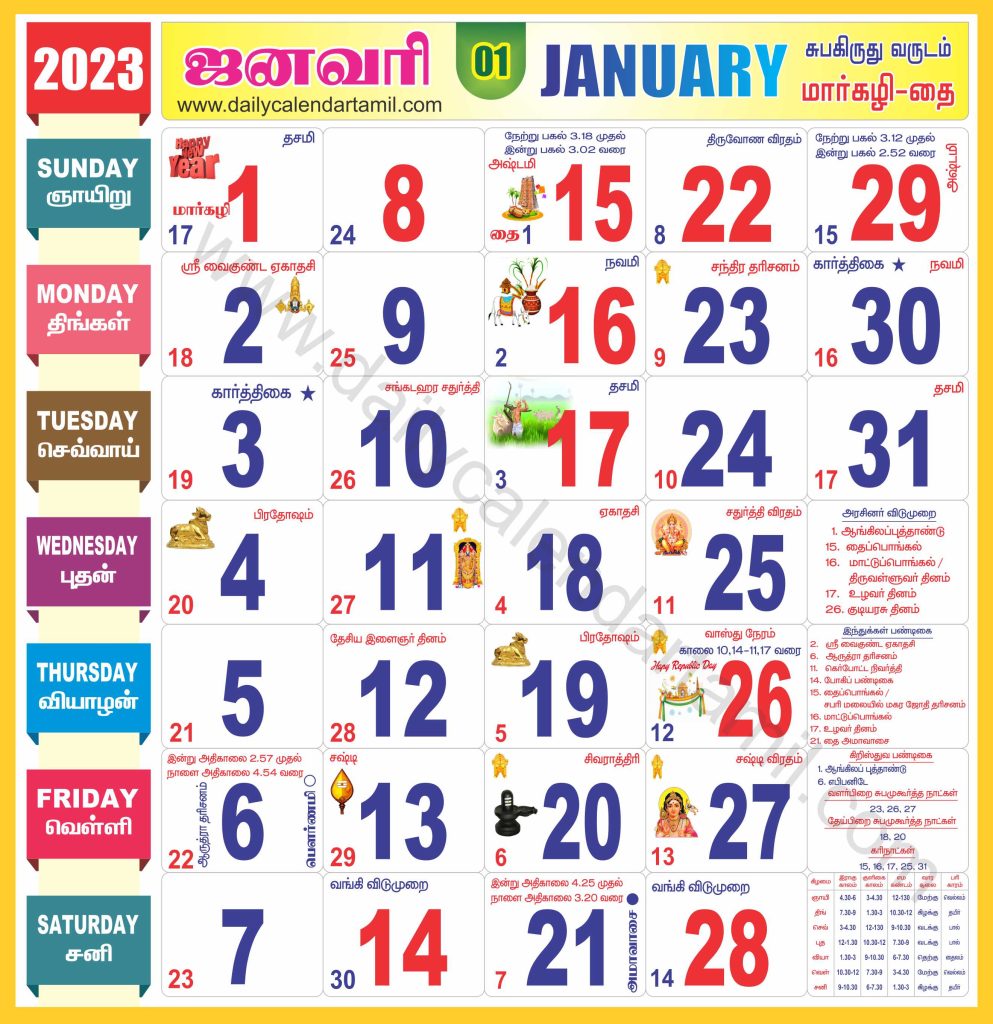 Daily Calendar January 2023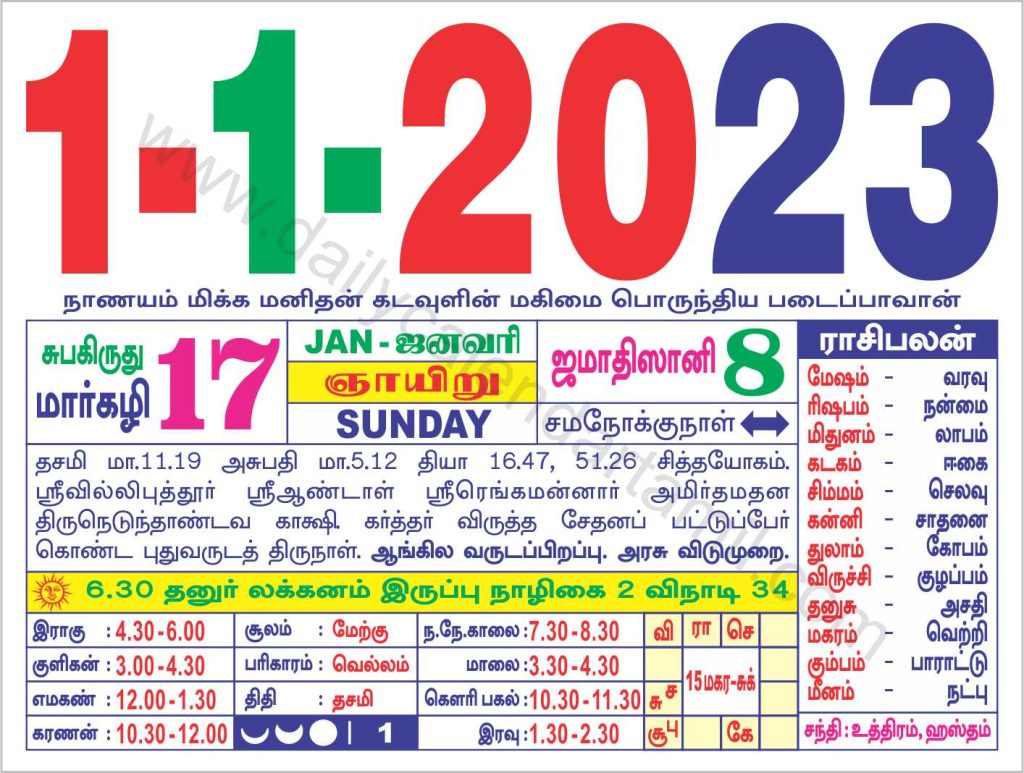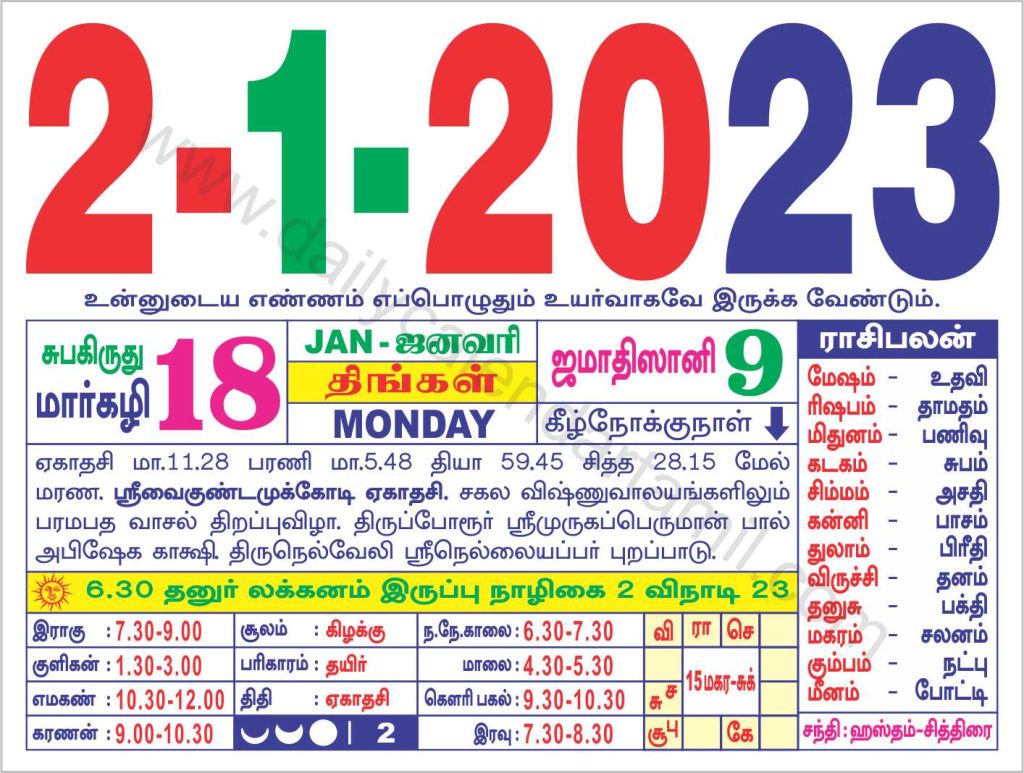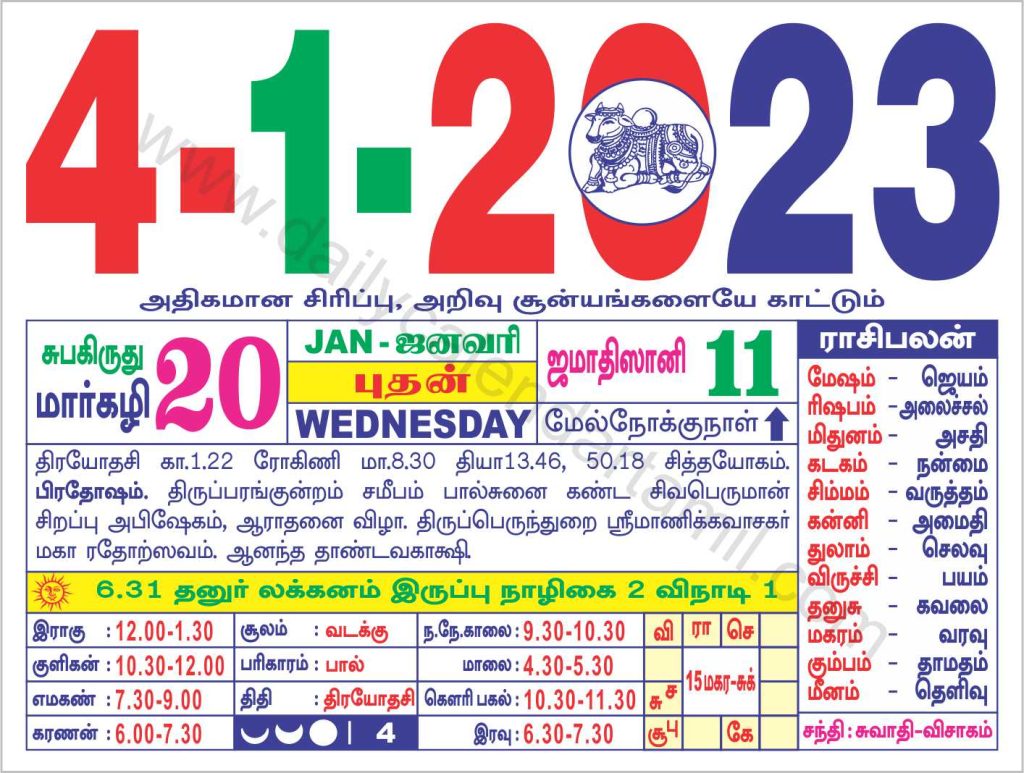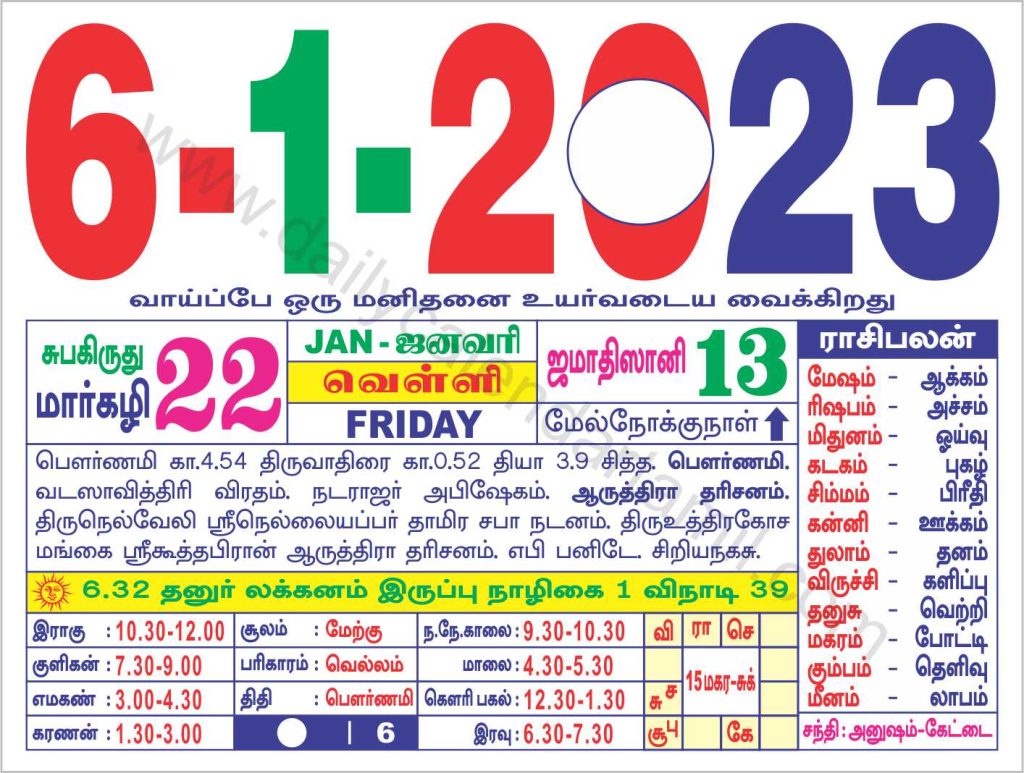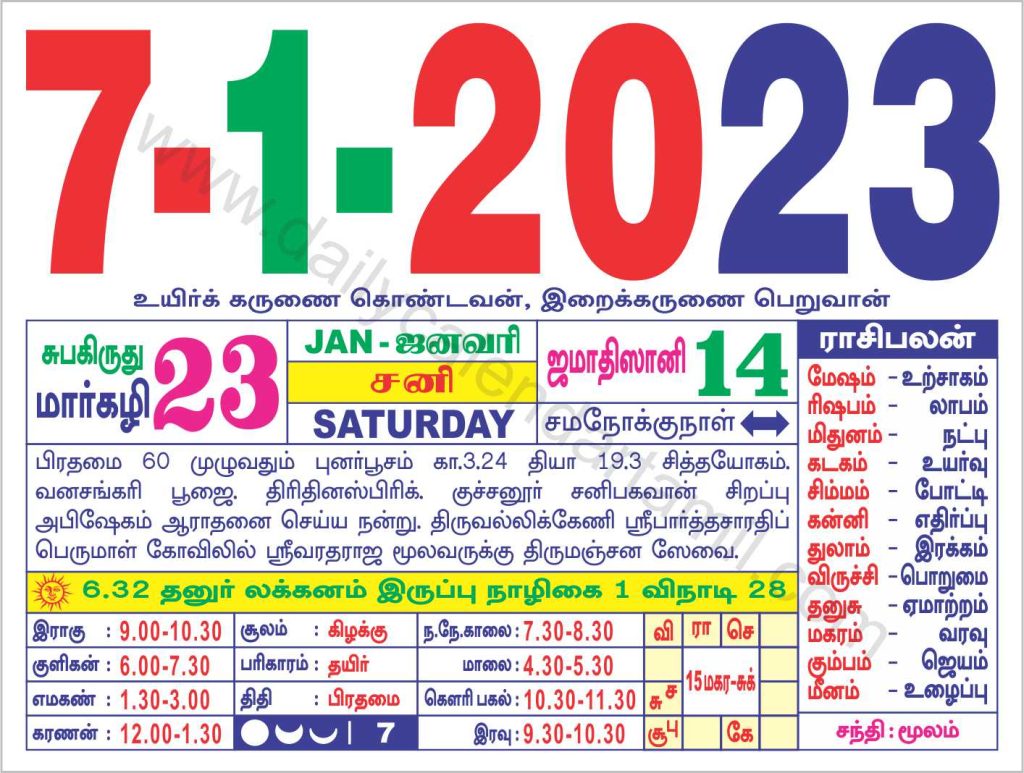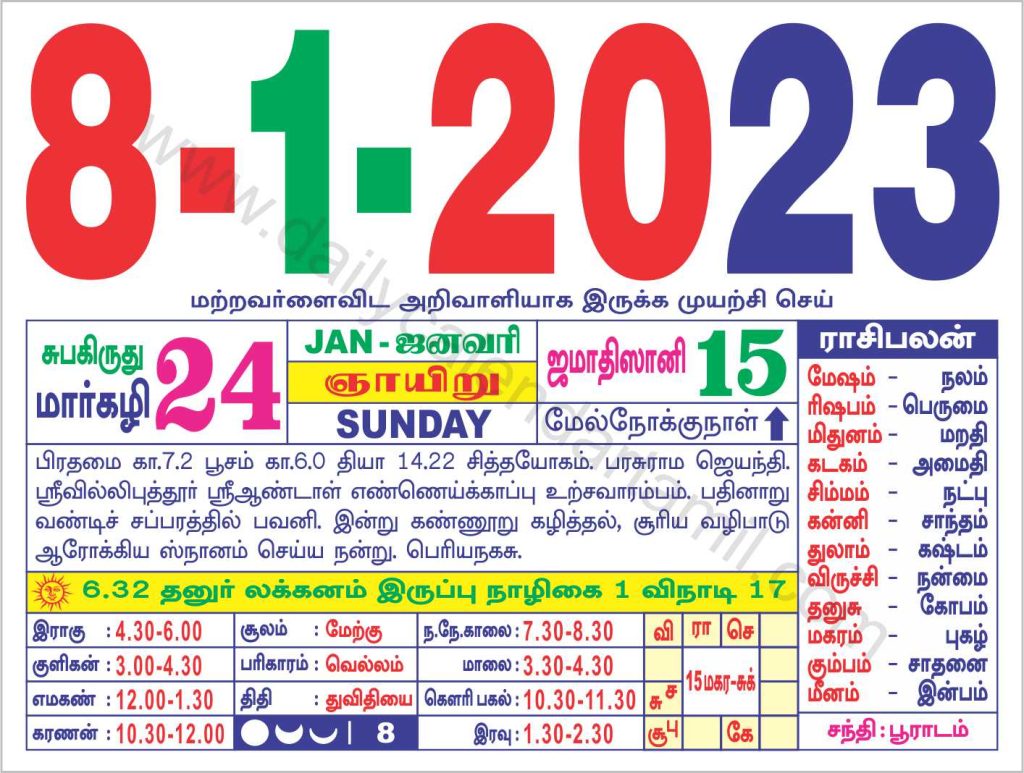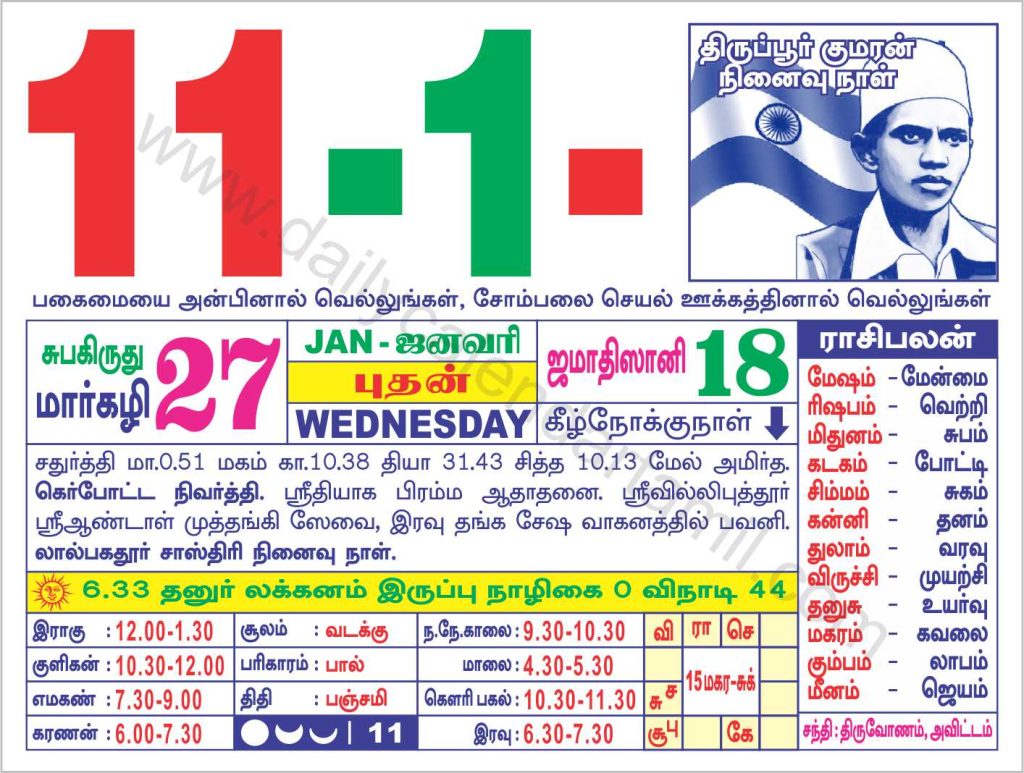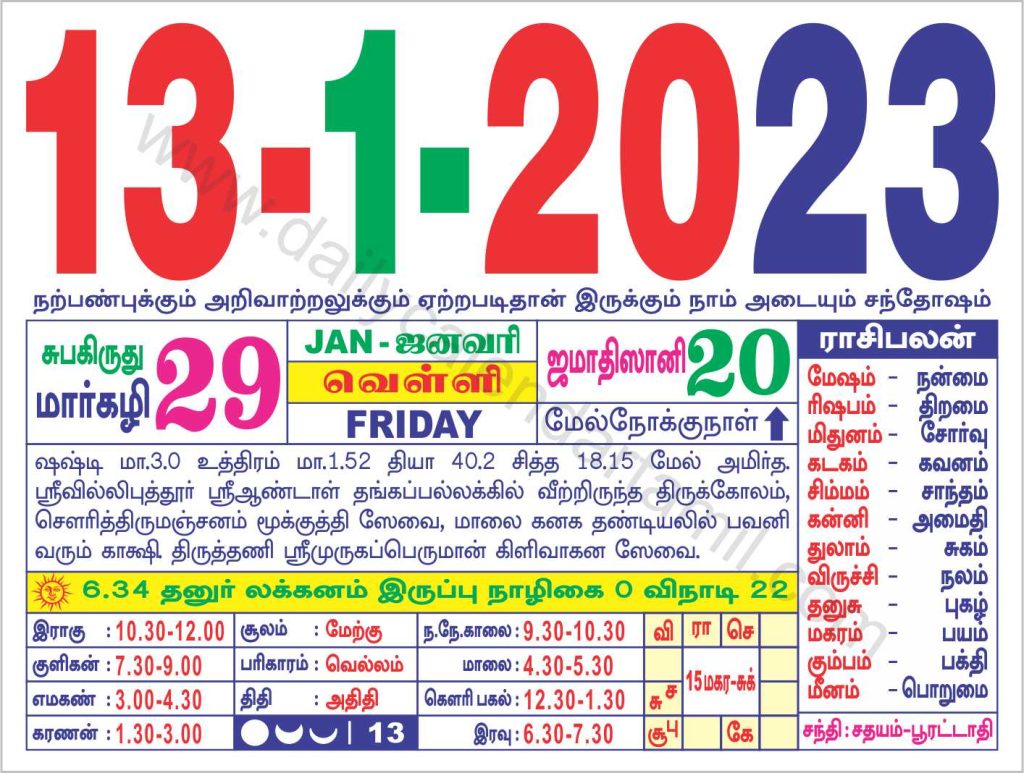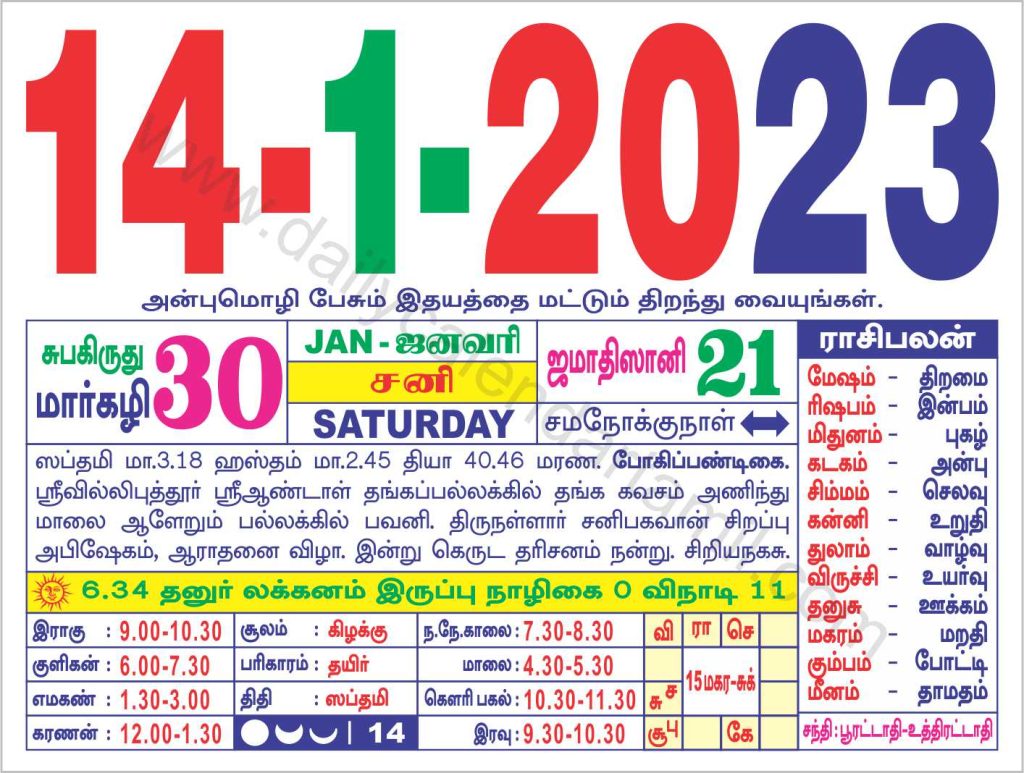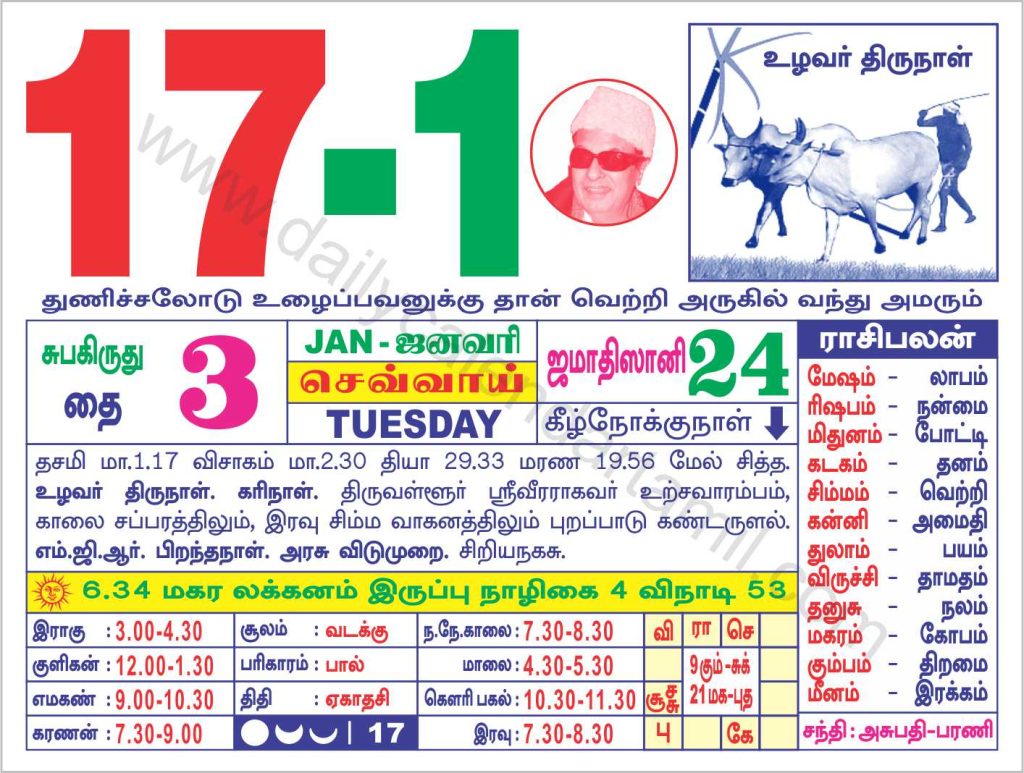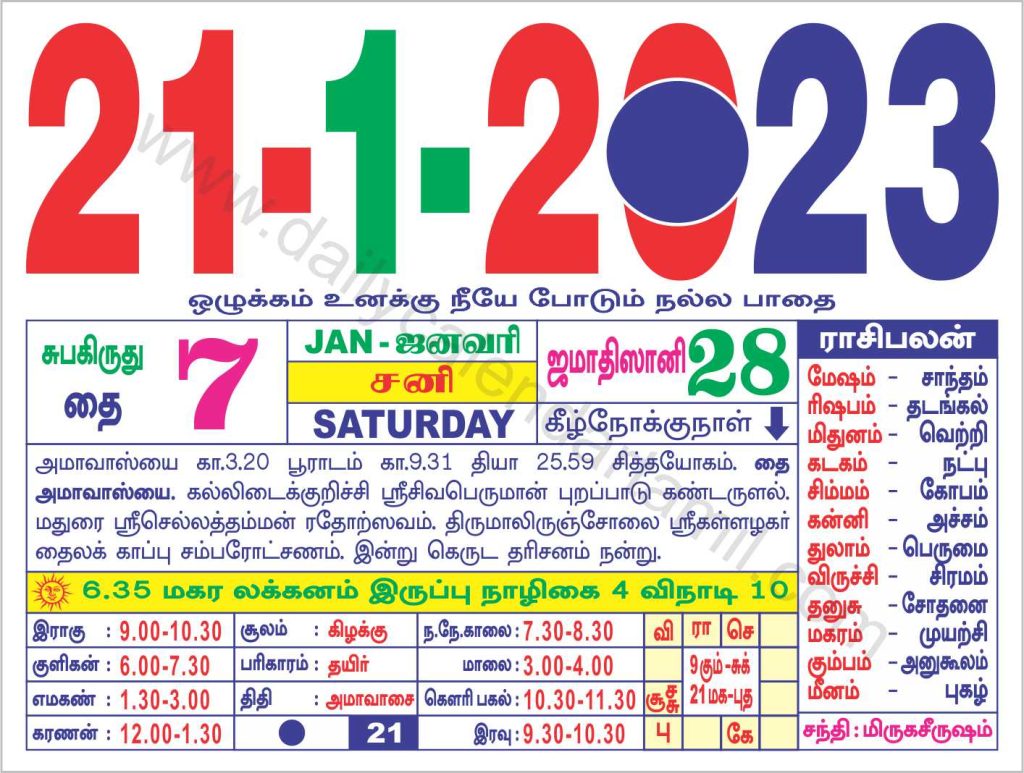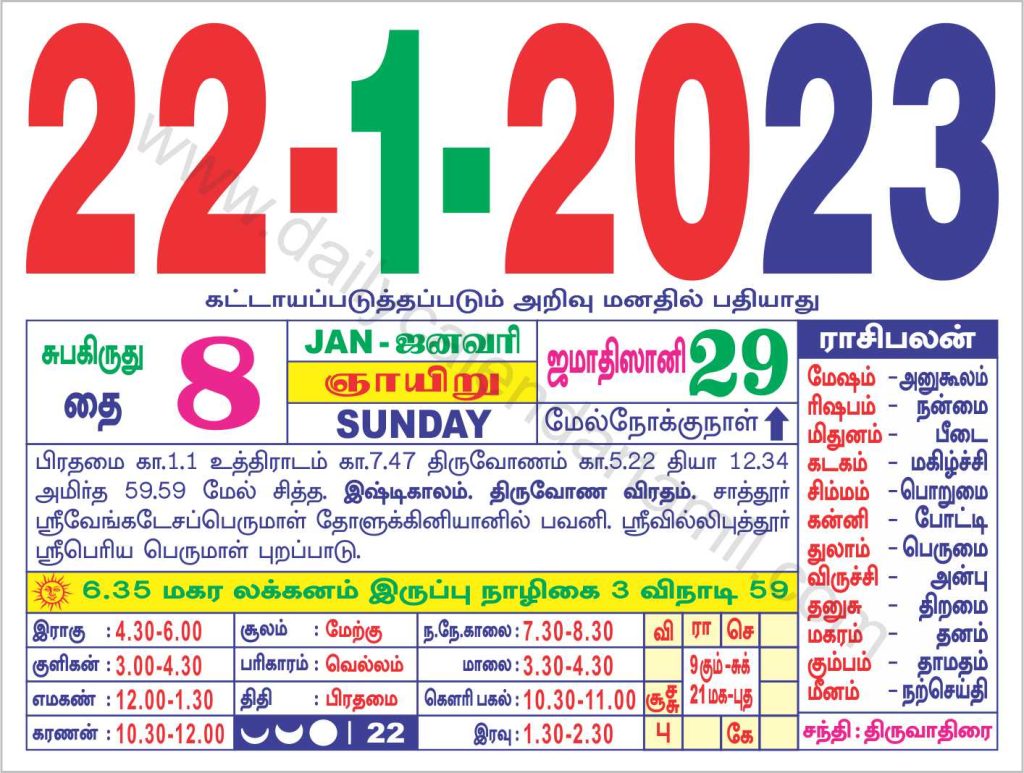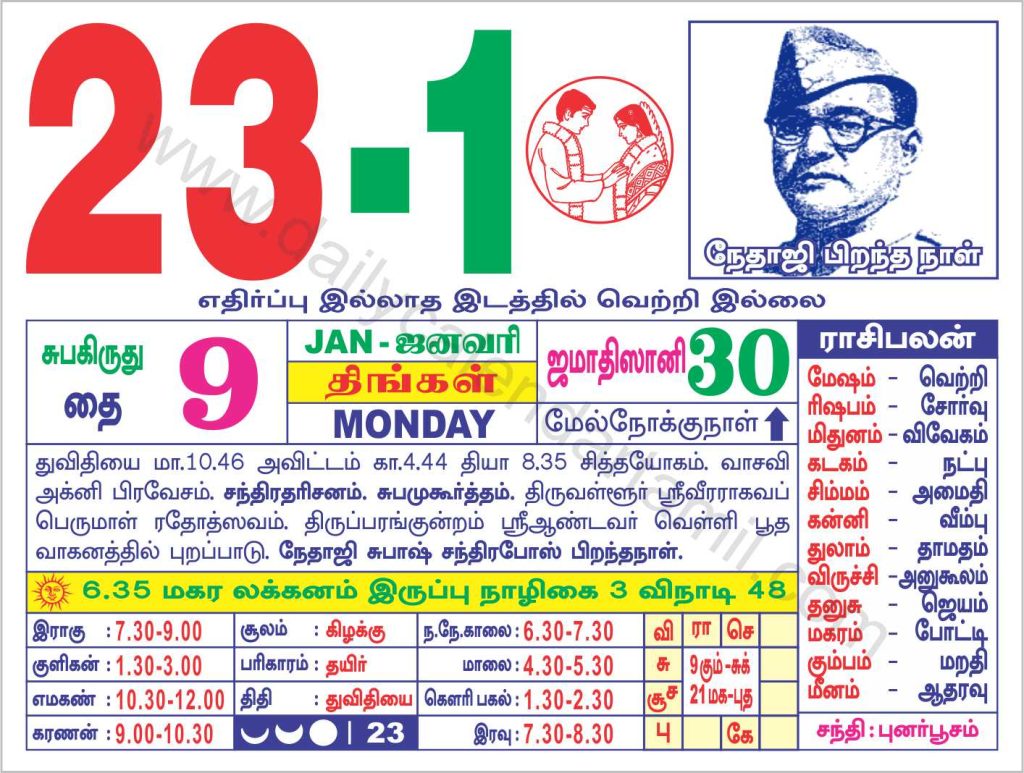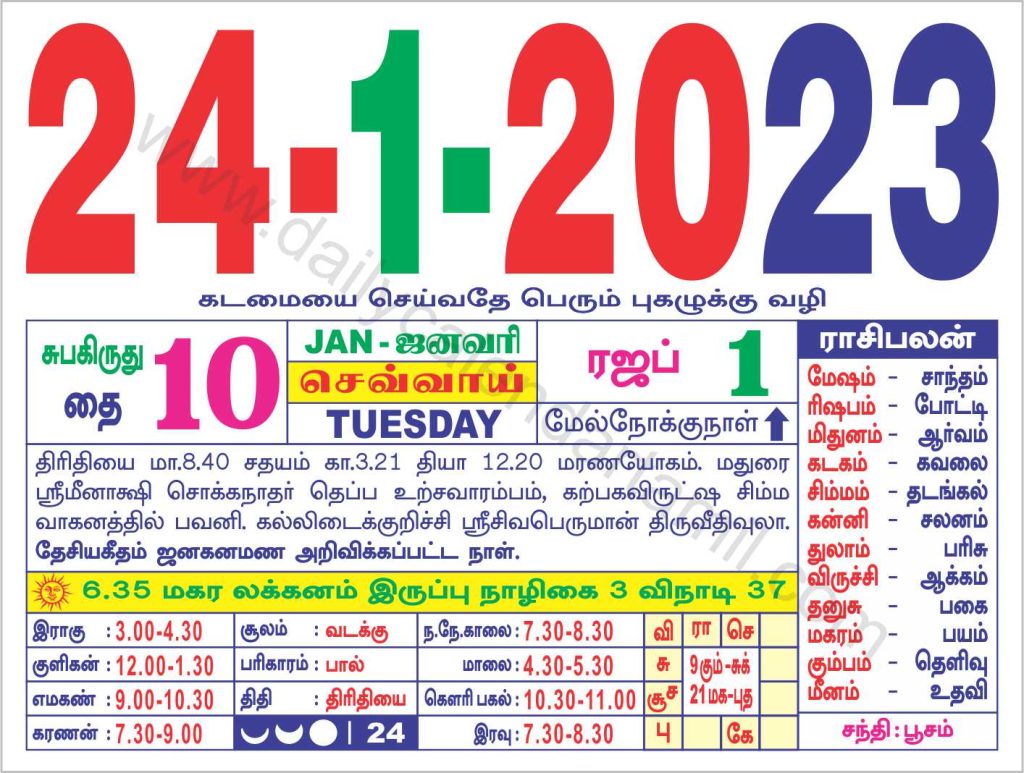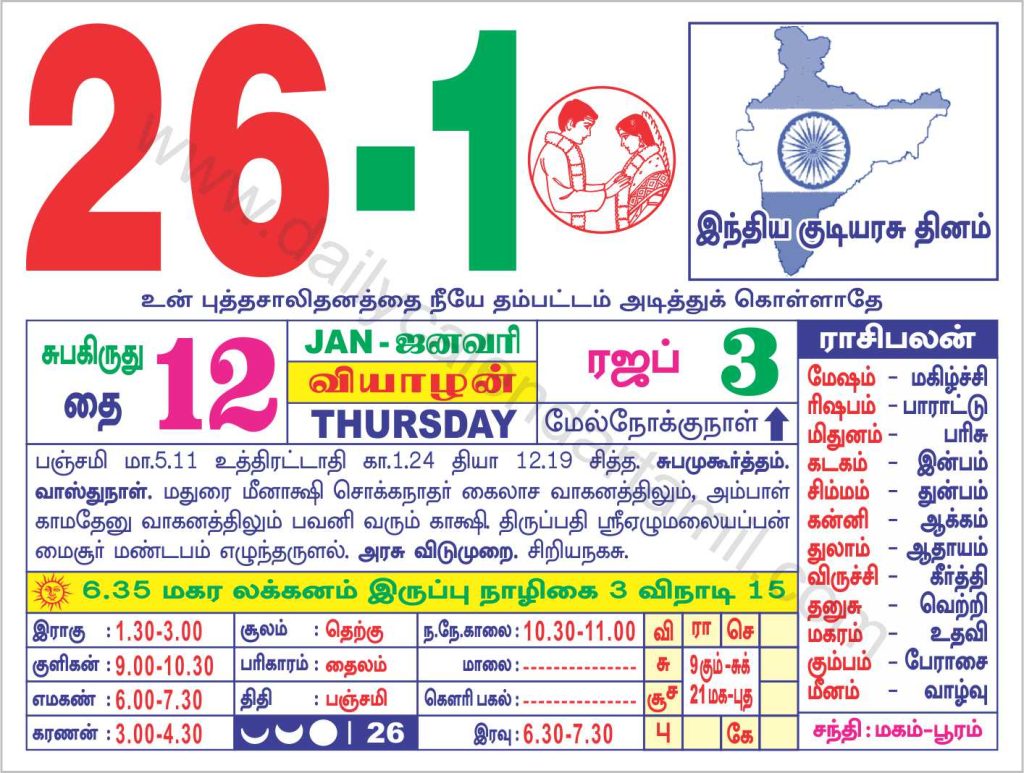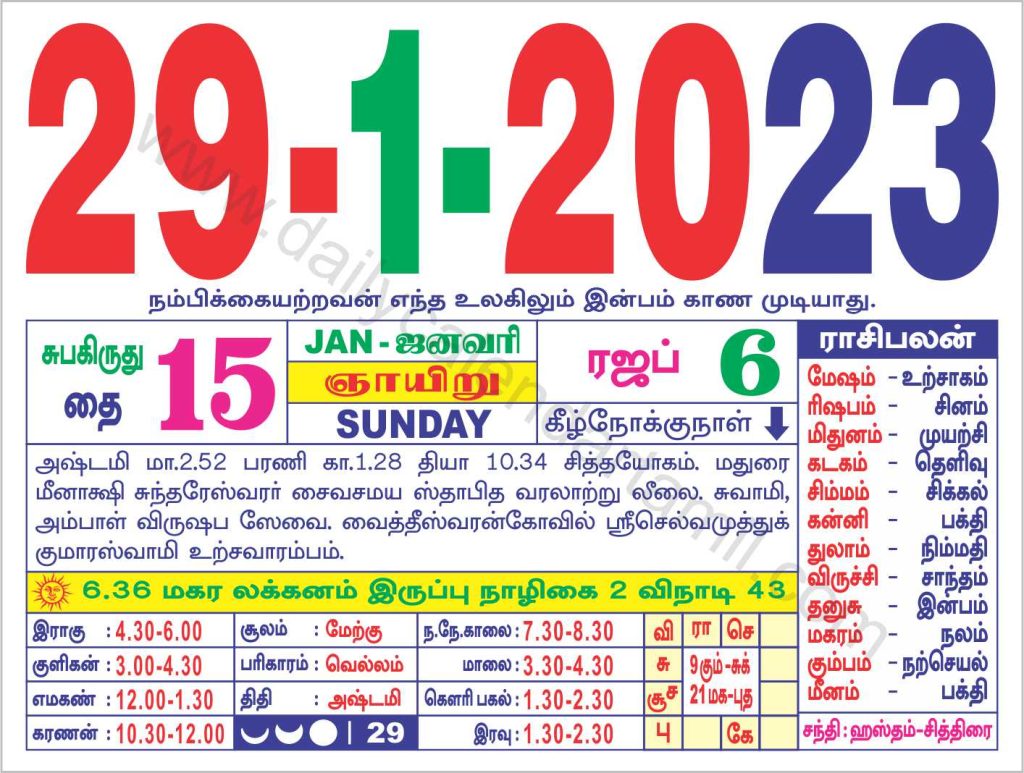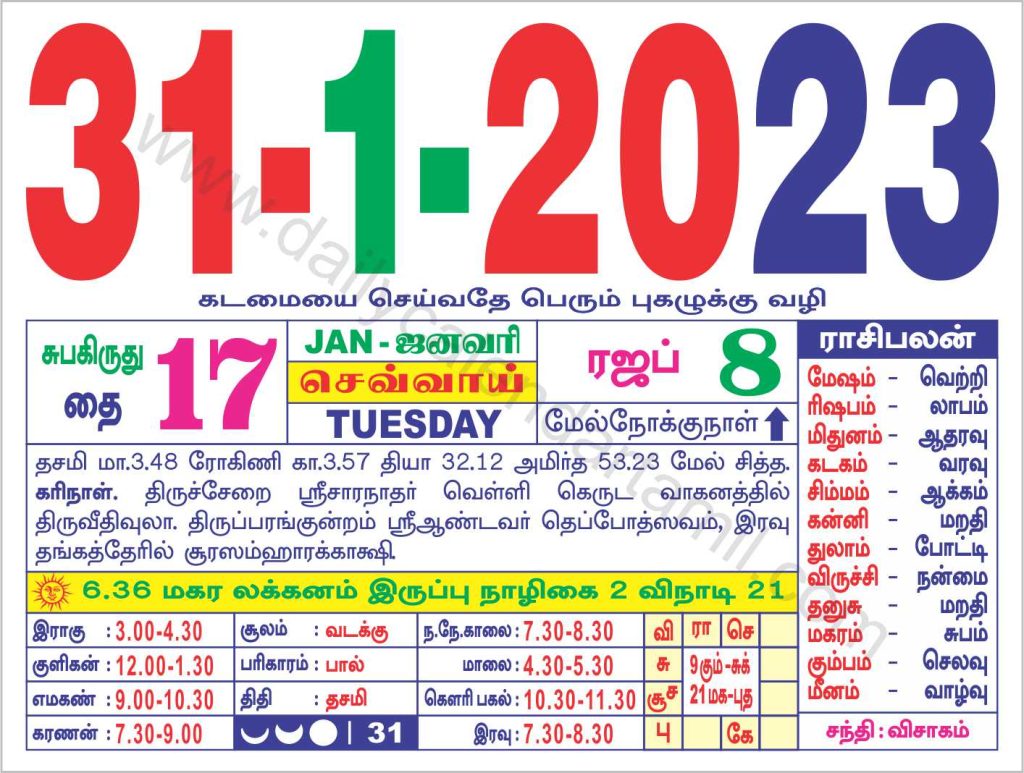 Auspicious days in January 2023
Auspicious Days
Date
Amavasai
அமாவாசை
21 Saturday
Pournami
பௌர்ணமி
6 Friday
Karthigai
கார்த்திகை
3 Tuesday
30 Monday
Sashti Viradham
சஷ்டி விரதம்
27 Friday
Sankatahara Chathurthi
சங்கடஹர சதுர்த்தி
10 Tuesday
Matha Sivarathiri
மாத சிவராத்திரி
20 Friday
Ekadhasi
ஏகாதசி
2 Monday
18 Wednesday
Pradosham
பிரதோஷம்
4 Wednesday
19 Thursday
Chathurthi
சதுர்த்தி
25 Wednesday
Chandra Dharisanam
சந்திர தரிசனம்
23 Monday
Thiruvonam
திருவோணம்
22 Sunday
Tamil Muhurtham Dates in January 2023
| Suba Muhurtham Date | Thithi, Lagnam & Nakshatram | Type |
| --- | --- | --- |
| 18 January (Wednesday), Thai 4 | Thithi: Ekadashi, Lagnam: Magara, Nakshatram: Anusham | Theipirai Muhurtham |
| 20 January (Friday), Thai 6 | Thithi: Trayodashi, Lagnam: Magara, Nakshatram: Moolam | Theipirai Muhurtham |
| 23 January (Monday), Thai 9 | Thithi: Thuvithiyai, Lagnam: Magara, Nakshatram: Avittam | Valarpirai Muhurtham |
| 26 January (Thursday), Thai 12 | Thithi: Panchami, Lagnam: Magara, Nakshatram: Uthirattathi | Valarpirai Muhurtham |
Government Holidays in January 2023
| Date | Day | Public Holidays |
| --- | --- | --- |
| January 1 | Sunday | New Year's Day |
| January 15 | Sunday | Thai Pongal |
| January 16 | Monday | Thiruvalluvar Day/Maattu Pongal |
| January 17 | Tuesday | Uzhavar Thirunal |
| January 26 | Thursday | Republic Day |
Hindu Festivals in January 2023
Date
Day
Festival
January 2
Monday
Vaikuntha Ekadashi
வைகுண்ட ஏகாதசி
January 6
Friday
Arudra Darshanam ஆருத்திரா தரிசனம்
January 11
Wednesday
Kerpota Nivarthi,Sri Thiyaga piramma Aarathanai
கெர்போட்ட நிவர்த்தி, ஸ்ரீ தியாகபிரம்ம ஆராதனை
January 14
Saturday
Bogi Festival
போகிப் பண்டிகை
January 15
Sunday
Thai Pongal
தைப்பொங்கல்
January 16
Monday
Maattu Pongal
மாட்டுப்பொங்கல்
January 17
Tuesday
Uzhavar Thirunal
உழவர் திருநாள்
January 21
Saturday
Thai Amavasai
தை அமாவாசை
January 28
Saturday
Ratha Sabthami
ரத ஸப்தமி